Zuni Multi-Stone Necklace and Earrings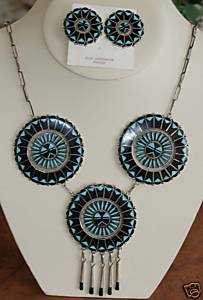 A brand new, very nice, Zuni necklace and earrings. It is made from sterling silver, turquoise, coral, and onyx. The necklace is about 26 1/2", and the designs are 2 1/2" in diameter each, and the dangles on the center piece are 1 3/4" in length. The earings measure 1 1/2" in diameter. This set was made by SJ Zuni. This item comes with a certificate of authenticity.
Retail Price: $17,010.00 Your Price: $14,616.00
Product ID: JN-1348
---
Click add to cart for an extra 80%off and 25%Off!